First of all, I want to make
one thing
clear: I am a
very big
Jonas Brothers fan and I
respect them
and those that they love and hold close to themselves.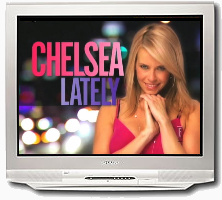 I feel the need to stress this because I have learned from
Chelsea Lately
... you mess with JB fans and you do not live to tell the story. Well, OK, you guys didn't
kill her
but let's face it, the woman's an embarrassment – she was belittled by her own network just because she 'messed' with the epic Jonas Brothers. I'm surprised she didn't 'Vodka and Martini' herself to death after that telling off (I'm glad she didn't – I LOVE HER!).
So, having made it clear that my intentions aren't to hate on the Jonas Brothers or to make up false rumours; I can begin.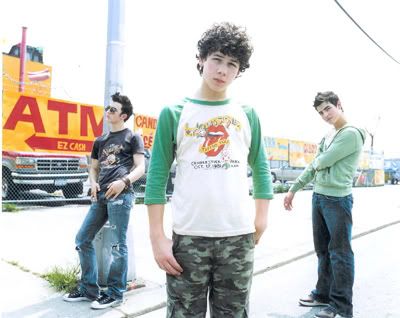 I first stumbled across the
Jonas Brothers
on an Internet forum where, NO, I do *not* have an account; the forum is
Zefron
. I love it. I'm always on there getting clued in on the latest information on Zac Efron, HSM and his co-stars. On there, the members have signatures and avatars they use to depict either Zac Efron's rippling muscles or his enticing blue eyes and maybe even that coy twist of his lips that creates that ever-famous smirk all girls swoon over. Then, a few months ago... things began to change on Zefron. I began to notice there weren't as many members with names like '
MrsZacEfron1001
' or whatever, but instead; '
THE_1_&only_JONASgirl
' and so forth. One thing was clear in this pattern; the name JONAS kept popping up. Then there was the change in signatures; more and more girls had these three boys in their signatures. They all had black hair and wore stylish clothing but beyond that; I didn't see an interest. I never once Googled Jonas.
Instead, every time I saw one of these 'Jonas' accounts, I'd just frown.
Then all these threads began to pop up on the Jonas Brothers.
Still, I avoided them with a determined scowl on my face.
The thing is; I'm British.
(I use that as an excuse for everything, trust me...)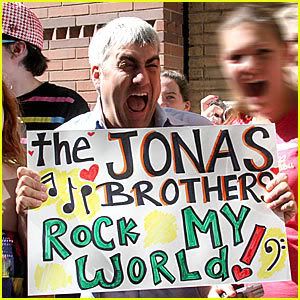 The American fans on Zefron were experiencing the earlier symptoms of
'Obsessive Jonas Disorder'
but me, being across the ocean and all; I was immune to this... for the time being.
Anyway, all of this wasn't just happening on Zefron. It was on other forum boards too that I won't name because Zefron is the only one everyone who reads this blog can probably relate to. Even though I noticed this wave of '
Jonas-mania
' sweeping over all my Internet friends and so forth; I never once was interested enough to ask
'who the heck is Jonas?'
or even Google the name. Not once.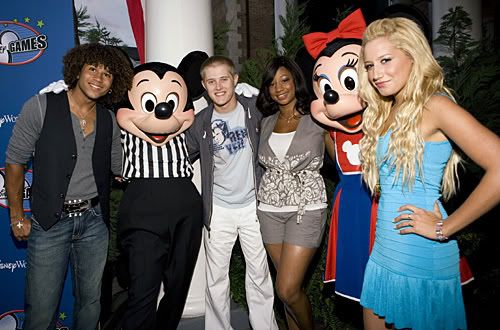 So, for months, I went along in ignorant bliss; obsessing over Vanessa Hudgens' dishy outfits, dying every time Zac Efron hit the red carpet and stalking the cast of
Gossip Girl
on MySpace (
fun times....
). There were incidents, however, when I'd eagerly be watching
Miley Cyrus
perform in Times Square over Christmas and all of a sudden those Jonas boys popped up and did a duet with her. They were also at the
AMAs
, then at the
Teen Choice Awards
in 2007 too – they got pictured with Zac and Vanessa.
They were everywhere!
It started to bug me.
A lot.
That was when I did it.
I went on Youtube and typed in 'Jonas Brothers'.
The first video I got was one from their JonasBrothersMusic account and it was of Joe, Nick and Kevin talking about how they were going to have a
'real time' live chat
.
'Real time... that's like... in synch with life!'
Naturally, I
laughed
. Naturally, I found Joe
cute
. Naturally, I closed YouTube, went to Google and typed in
'wedding dresses'
and shopped around for my big day... I also looked at a few tuxes for Joe although I know his stylist would probably pick his out for him; but whatever....
Yeah, that's right.
ONE STUPID VIDEO.
And I was hooked.
To be honest, I loved Joe. I started to see something
'pretty'
in him; for want of a better word. I watched a ton of their videos from their own YouTube account and I loved the Nick J show where Joe went crazy with hitting Nick and Joe doing the
celebration dance on stage.
.. complete with a cape! Cooome on, ladies. The way a man gets to your heart is so by putting on a cape, donning a stupid wig and dancing like there's no tomorrow in front of thousands of people.
How much more real can you get?
So, yeah. That's pretty much the reason why I kept checking back for more Jonas details and news. That's pretty much how I merged with the crowd of
'We have Jonas Brothers siggies and avis'
people on the forums.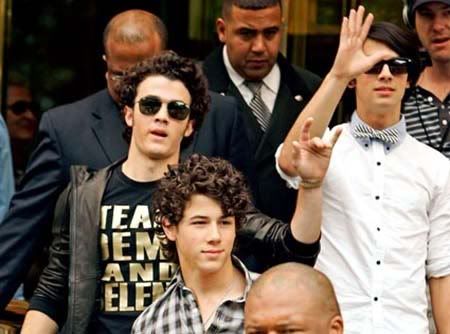 Of course, entering Jonas Brothers world is like entering
drama land.
Seriously. Nelena. Niley. Jaylor. Purity Rings. Team Demi & Selena.
You know what the common factor in all their dramas is? It all leads back to
girls and relationships.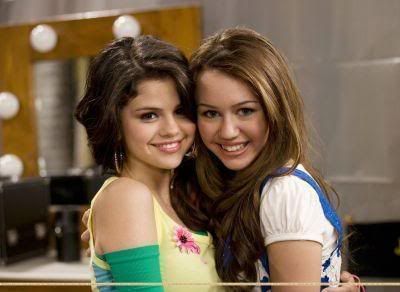 In my opinion, that makes them even more real and grounded as people and teenage boys. Teenage boys do have girls on the brain, as well as sex and they do get caught up in girl-fights; sometimes they're the creepy guys standing on the sidelines yelling
'YEAH, TAKE OFF YOUR TOPS!'
or sometimes they're the poor, helpless worried guys trying to push two screaming, biting, bitchy girls away from one another as they try to tear strips off each other. Either way, it's the life of a teenage boy, y'all. For guys who are raking in the major big bucks, these boys have done well to stay away from the
'OMG HE HAD COKE IN HIS SOCKS, HE HAD *COKE* IN HIS *SOCKS*'
dramas. They've avoided playing into the waiting media's hands; I mean, you just
*KNOW*
some poor writer out there has a headline saved on their computer that goes a little something like this:
'THE THREESOME HAD A THREESOME!'
or something lame like that... (that poor writer is not me... maybe).
So, now that I've narrowed down the main issue for these boys... I want to talk a little bit more about it.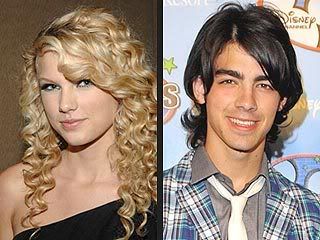 TAYLOR. JOE.
Oh heck no.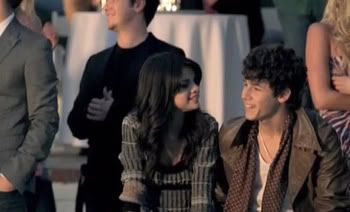 Honestly, when
Nelena
got busted; I was like
'meh... you win some, you lose some, get over it ladies.'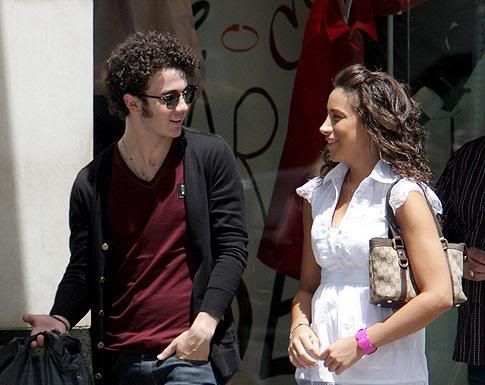 Then there was that little iffy thing with Kevin;
'Danielle was in Living The Dream, she was bowling with them, she was tight with Selena... OMG, Kevin and Danielle?'
Once again, my reaction was a little bit like
'heh... yeah, well, what're you gonna do? The boy fell in love, had to happen sometime'.
Then there were these weird
'sightings'
of Taylor at the Jonas Brother's concerts and NATURALLY, I was like
'pssh, whatever. I believe UFO sightings before I buy into this crap.'
Then,
bam!
Taylor pops up on stage with Joe on the Burning Up tour and I'm like
'OK, bitch, you're really pushing it here...'
Well, alright, I didn't exactly say that. I was more like 'OMG, are they dating? Are they?'
That was when the rumours got more intense and it was all 'Ooo Joe looooves her. Ooo Taylor looooves him.'
All of a sudden, fans were sending in pictures of Joe trying to keep a 'low profile' at Taylor's concerts and of Taylor at his shows; she was all gold and shiny... Grrr. HELLOOOO. EARTH TO TAYLOR. You wanna go incognito at your boyfriend's concert? Don't freaking dress yourself like a Christmas tree!
OK... that was mean.
She is actually pretty beautiful. Her eyes bug me... they're really small. The first time I saw a picture of her, I was like
'damn, why are you squinting at me?'
Then I saw another... and another... and another... and the horrible, horrible truth dawned on me. She
actually
looks like that. It was a real 'OHHH' moment.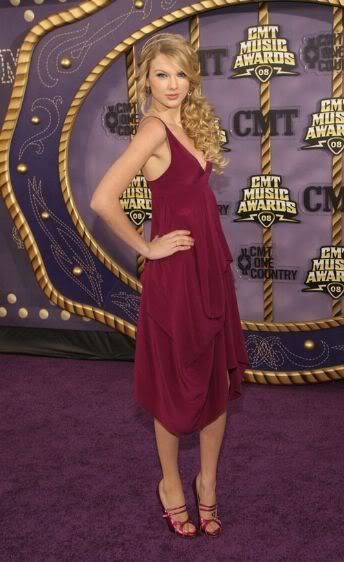 She's also super-skinny. Then again, everyone in Hollywood is that skinny. She just looks a little fragile though. She's also taller than Joe – I noticed that at the
VMAs
when they were standing next to each other and she was wearing flats. Not that that's a problem. It works for
TomKat
and you know, they have
matching haircuts
and
Scientology
so it's all 'yay' for them....

HAHA.
Alright. I am done bitching about Taylor now. Yes, that above paragraph was bitching. It was me trying to do the whole
'play it cool bitching'
but bitching nonetheless.
Anyway, at the VMAs, I see Taylor and I see Joe. Here's a few things fans picked up:
-When introducing JB as they were about to perform LoveBug; Taylor emphasised Joe's name (I kid you not... she
EMPHASISED
it...lmao)
-Joe and Taylor hugged... but then again, she also hugged Nick and Kevin... but the Joe and Taylor hug was, you know,
more special.
-They sat next to each other for a few brief moments.
Then, on the
Ellen Show
, the very NEXT day; Joe did not deny dating Taylor and just nodded and listened whilst Ellen told him
'you're dating Taylor Swift'
. Think back to Zanessa after the Hawaii photos. Whenever an interview tried to get them to open up about their relationship; the two of them would just go quiet. BEFORE Hawaii photos, Zac and Vanessa were being cocky little effers; saying stuff like '
OH, he's like my brotherrr'
or 'Pssh, nooo. We're so close, we're not dating, no, no, no.' They made us sound like we were stupid. Then, when the pictures came out; they couldn't deny it but they didn't want to discuss their relationship which, hey, is their choice and I kind of love them for being so private. The same thing is what is happening with Taylor and Joe.
Yet, one thing that baffles me about Jaylor or Toe (
bahahahahaha TOE TOE TOE
) is how on earth a
meek-looking, unassuming girl
like Taylor Swift hooks up with a personality as wild as Joe Jonas's. Joe, in case you've forgotten, is the guy who asked for a motorcycle with sidecars and got it for his birthday. Joe is the one Ellen gave a crash helmet to one her show. Joe is the one who falls... at the AMAs, at the CosmoGirl awards, at concerts, etc. Joe is the one who goes crazy, puts on a wig and a cape and does an insane dance of celebration in front of thousands of fans as I've already established.
How does HE end up with a girl like HER?
Whilst I was thinking that, a gnawing feeling at the back of my mind was hissing in a creepy Gollum-like voice
'Publicityyyyyy Stuuuuuuunt.... PUBLICITYYYYY STUUUUUNT!'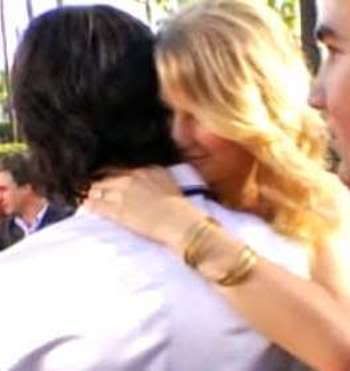 The publicity stunt analogy does work, to be honest. It really does. With other couples, you get the warning signs that they're dating for months before you actually get the evidence.
Joe Jonas
is a very high profile celebrity... if he was dating Taylor; surely people would have gotten pictures way sooner. Surely fans would have picked up on it sooner. The fact that on the Ellen show, Joe seemed kinda resigned to the fact that he'd been exposed and didn't try to even deny it despite the fact that no one still has concrete evidence he is dating
Miss Shiny and Glowy
like, say, for example; him and her rolling around on a beach in Hawaii or whatever... it makes no sense. UNLESS, they are using the publicity around their relationship to promote their careers? Taylor has an album coming out
next month
.... Makes sense.
Then
AGAIN
... the publicity stunt thing is kinda...
overrated.
If there's one thing I've learned about the Jonas Brothers, it is that they are very close to their parents. If there's one thing I've learnt about their parents; it's that they're very close to God. If there's one thing I've learnt about God, it's that God is very big on morals.
Morally speaking, a publicity stunt involving a Jonas Brother would go against everything they
stand for
and believe in. They say they are so grounded and they are the same boys despite their fame. I believe that. I do not believe a grounded person would get caught up in Hollywood's shit; that shit being stuff like
publicity stunts
. I also don't believe their
parents
, who live a religious life, would allow their children to be caught up in such a thing.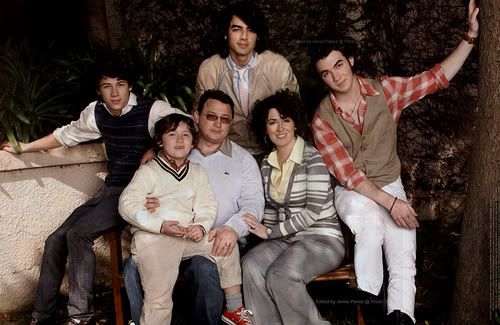 Finally, I don't believe the Brothers could live with that kind of dirty laundry – they seem like very open boys and to have a lie hanging over them just isn't they're style. Maybe Taylor Swift needs the boost (before this I didn't give a 'hoot' about her) but JB certainly don't. They don't need it right now. They don't need the money either.
They're on a high.
I could be wrong.
The Jonas Brother's could have sold themselves out.
They could secretly be snorting coke and sleeping around or whatever... but take a look at their parents; they're parents go with them wherever they go. Do you really think those boys could step out of line with those two watching over them? I think the Jonas Brother's would probably be too ashamed to even think about doing those things when they're around their parents – let alone actually do them. I also think they're too cool to get wrapped up in a publicity stunt; let's face it: publicity stunts are embarrassing – imagine them having to explain to their closest friends, some who aren't even in Hollywood; that Miss Shiny has to stick around with them for the sake of photo ops.
EMBARASSSIIIIIING.
Of course, if this relationship is real; that leaves one thing unresolved. Did Joe go and hit his head? How on earth did he end up with his complete opposite?
Well, I got an answer for that too. Rip your hearts out, ladies, 'cos Joe Jonas and Taylor Swift aren't polar opposites. I judged her from appearance. I judged those squinty eyes and that dangerously thin frame before I got to know the little brain up in that coconut of hers.
I watched a YouTube video with Taylor. Guess what? She's witty, she's confident and she's actually funny. I don't love her by the way. I didn't get Taylor-whipped or something. I still find her lame. All I'm saying is; she is compatible with Joe if you learn more about her. She really is, damn HER!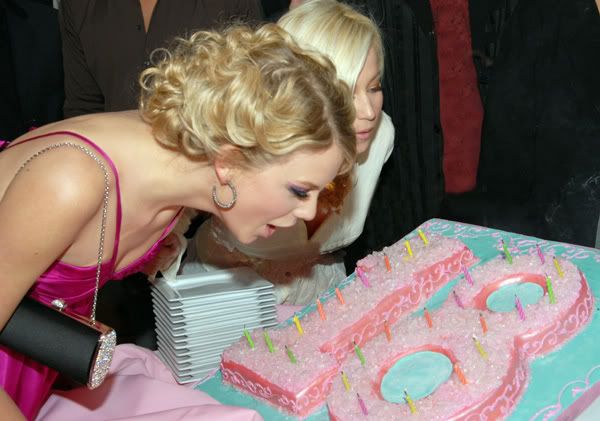 I also saw a performance she did at the
Country Music Awards
of '
Should've Said No
'. She has some
SERIOUS
spunk. What she did on stage was brilliant (the song sucks, by the way – sorry, Tay, you can't win me completely over; it's in me to hate you). She came out in a hoodie and jeans with a guitar. She's singing, then she strikes a final cord and tosses the guitar off-stage somewhere (probably hit some poor maintenance guy backstage, the hussy!) and she saunters over to a microphone and starts singing without the guitar with dancers behind her. Then, two of the male dancers reach out and PULL HER
CLOTHES OFF HER
. Seriously, the hoodie and jeans just rip off. There she is, butt-naked... no guitar... just a microphone and that crazy curly hair and then a strippers pole just elevates up from beneath the stage and lemme tell you; the girl has MAD SKILLS... total MADD SKILLZZZZ in the ghetto sense when it comes to grinding up on a pole AND theeeen-
Alright, alright... I can't do this anymore.
Let's go back. Back. Back. Put
down
the erection, boys. The dancers pull of her tatty clothes... to reveal she is dressed in an
elegant mini-dress
. That was pretty cool. Next up, she's singing that lame song, all 'should've done this, should've done that, blah blah...' and then bam! Rain.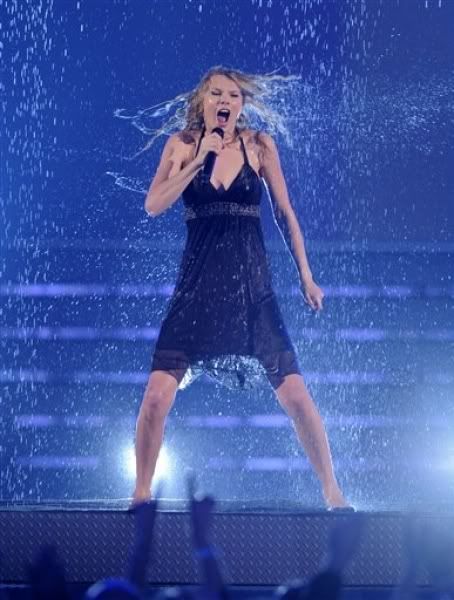 It starts raining on her and she gets soaking wet and she's just having an awesome time on stage, standing under the pouring water with the crowd screaming and cheering her on. That just showed me this side of her personality that Joe has. That fun, over-the-top stage personality.
I was kinda convinced that she was cool then... kinda but not totally. She certainly had the humour, wit and stage-like antics of a Joe Jonas. BUT... the big question... what was she like beyond that?
Oh yeah. I went to her MySpace page.
That's how hardcore cool I am.
She didn't have one of those fancy-shmancy
'about me'
sections where they talk about the artist in the third person. She had one she had written herself in italics, big BOLD italics. She was actually funny. She talked about how she was one of those unusually tall people (yeah, we bet Joe knows when he was talking to your NECK at the VMAs) and then she apologised for being one of those people who 'blocks your view at concerts'. She was starting to grow on me. What REALLY gave her away, however, was when she talked about not having time for a boyfriend and then... describing her 'Prince Charming'. She stated he had to have an 'immature sense of humour' and 'fantastic hair'.
BAM-O!!!
Joe Jonas.
Hello?
Could she be any more obvious?
He has the *best* hair out of his brothers. His sense of humour is definitely wild and immature.
Toe
is ugly-sounding but it just might be something deep and beautiful, y'all.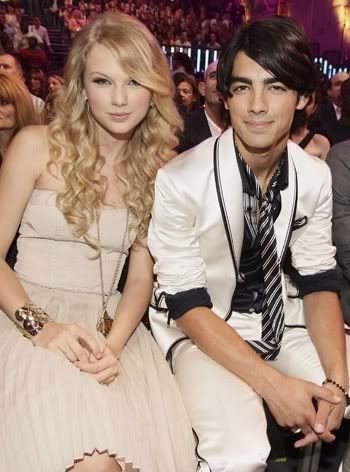 I'm not saying Brangelina better watch they're back or Zanessa better head to another beach so we don't lose interest in them... but I am saying Toe is a relationship to watch. Of course, I'll be watching JB and Joe regardless of Toe or whatever.
I'm out for now.
Leave me a comment or something...please! It's my first blog since returning from the summer.