19 year old Vanessa left sunny California yesterday and jetted off to Texas - yes, that's right. TEXAS.
Why, you may ask?
Well, the Hudge has been busy as a bee and working around the clock on her upcoming sophmore album these past few months but now, she's not going to Texas for a well-deserved break. Oh, no, no, no! She's going there... TO WORK!
The girl is truly dedicated and hardworking. Then again, anyone with an inch of success possesses those characteristics.
She'll be filming her new movie 'Will' out in Texas for the new few months and then returning back for HSM2.
Anyone feeling a little awkward about 'Will'? Like, are people getting uncertain little butterflies fluttering in their stomach? Well, KILL THOSE BUTTERFLIES! I don't care what you do, gas them out if you have to! Why? Because I'm here to tell you 'Will' is actually pretty interesting.
How do I know?
I'm psychic, kid.
No. It's Hollywood, people. What more can I say? Nothing is safe in this industry - including movie scripts. I happened to find a link on some other random Yahoo Answers page. My impressions of it?
I thought 'SA5M' is pretty interesting although, from my acting experience (which equals nothing because I have none), I would have to say Vanessa is definately going to have a challenge. When I hear 'HUDGENS' my mind immediately gets a mental image of the stylishly coiffed, expensive-handbag-wielding 19 year old starlet strutting her stuff. What I don't see is a goth-imitation who doesn't have an open sense of humour. But hey, she's an actress. She's been pigeon-holed into the 'HSM' category but this is her chance to PROVE herself.
THE WORLD IS WATCHING, HUDGENS! (No pressure, though...)

Check out the script here!
And while The Hudge is proving exactly what an independent female she is by going out there and grabbing the showbiz industry BY THE BALLS, co-star and boyfriend Zac Efron is also back in gear and on the set of 'Seventeen' once more.
Oh! Did you hear that, ladies and gentlemen? Did you? That was the sound of the hearts of tens of thousands of Zanessa-fans breaking... Why? Because their beloved stars are away from each other. No more pics on JJ! Sob, sob... ahh get over it. Remember: MAKE UP SEX! IN HAWAII - 2008 REUNION!
Yep, both Zac and V are true professionals and their finally showing Hollywood wha their doing in this crazy ass town anyway: their earning their place.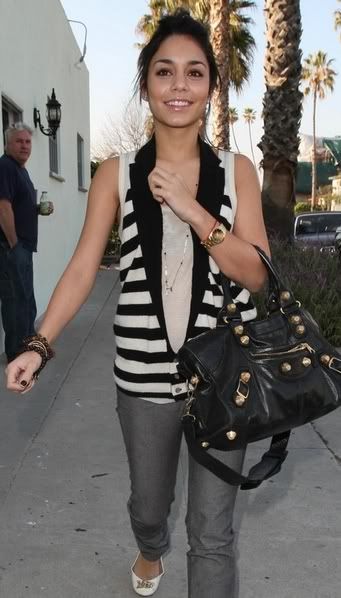 Best of luck to the two of them!