41 year old Patrick Dempsey, a regular on
Grey's Anatomy
and star of Disney's family adventure
Enchanted
, has just sweeped up PEOPLE'S biggest "Star of 2007" Award!
He more then deserves it and has even more reason to celebrate as he also welcomed the addition of two twin sons to his family this year!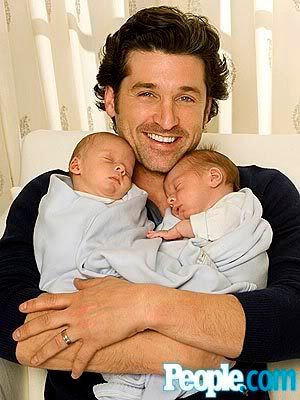 "I'm just enjoying life more than I ever have ... I'm trying to enjoy the moment while it's here and to be able to provide for my family so that I can step away and enjoy raising them away from all this."
Dempsey told
People.
Other award titles were as following:
"The Breakout" to Amy Adams for her debut in Enchanted along with Dempsey.
"America's New Sweetheart" went to
Knocked Up
star Katherine Heigl who was also a series regular on Grey's Anatomy.
"The Chart Topper" went to a more then deserving Carrie Underwood who rose to fame with the fourth season of American Idol.
"The Biggesy Legend" was a title that was ironically and rightfully given to Will Smith.
"The Sexiest Hero" went to Matt Damon who also won People's Sexiest Man of The Year.
The trailer for Enchanted, out this month in the UK!