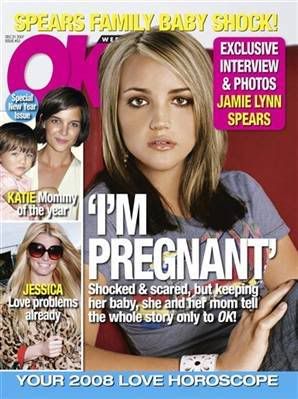 Jamie Lynn Spears
, 16, recently spilled all in an exclusive interview with
OK! Magazine
about her pregnancy.
She is currently 12 weeks pregnant and claims that her family is 'very supportive' of her decision to keep the baby.
However, a family insider has stated that the Spears family is less then happy for the support Britney wants to show to her little sister:
"Britney wasn't the first to know about Jamie Lynn's pregnancy, but she's trying to show her sister that she supports her. That's great, but at the same time we're worried. Jamie Lynn always liked to do everything with Britney, but as untimely as this pregnancy is, Britney is probably happy that their kids will be close in age and they can raise them together.

"But the longer Jamie Lynn is around Britney and bonding over this, the harder it's going to be for her to leave and go back to Louisiana like she says she will. It isn't hard to imagine what trouble she could get into if she gets too close to Britney right now."
Meanwhile, the children's TV network
Nickelodian
; home to Jamie's show Zoey 101, are keen to educate nine to fourteen year old viewers on the topic of sex education in a reaction to the emergence of Jamie's pregnancy. Do kids as little as nine really need to know the grisly details?
I support Jamie 100%, she's her own person and she is making the best out of a troubling situation. I dislike that the media are drawing comparisons between her and Britney however. Britney was a young mother, just like Jamie will be, and she had the paparazzi in her face throughout her pregnancy and then for months after. Isn't that enough to send anyone over the edge?
I really hope Jamie gets the privacy and respect she deserves and wish her all the best!