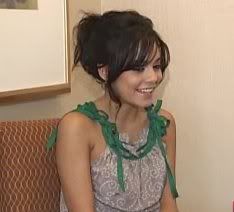 Vanessa Hudgens discusses High School Musical 2 as well as her chemistry with on and off-screen boyfriend Zac Efron (playing Troy Bolton). Unfortunately, she remains true to her 'lips all zipped up' attitude when it comes to any discussion surrounding her personal life.
It's an old but still worthwhile interview of the Hudge so check it out on my MyFox New York website
here!
I have to add, she looks absolutely amazing and that top looks very Christmassy even though this interview is dated for August 3rd!