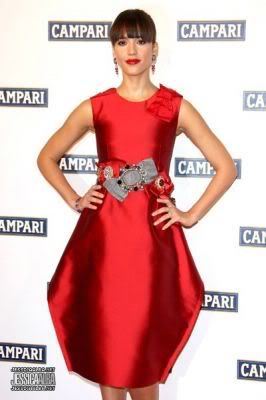 Jessica Alba
looked stunning in a sheer red dress at the
Campari Club's
launch of it's
Campari Calendar
on Wednesday evening (3rd December).
The
Fantastic Four
star and mom of one left mouths hanging on the red carpet as she struck a variety of poses with fashion designers like
Donatella Versace
and her daughter
Allegra
.
I have to feel kind of sad for
Allegra
.
She's been battling anorexia since March 2007. It doesn't look like she's getting any better and surely being surrounded by super-beautiful women like
Alba
at high profile red carpet events such as this one can't be good for her? Alba might not be anorexic anymore but she inspires it in other girls, for sure!