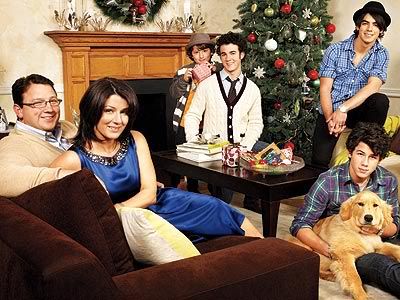 People.com
sat down with the
Jonas Brothers
and their parents and younger brother
Frankie
to discuss the upcoming Christmas holidays and their holiday traditions.
The Jonas family talked about how they can't wait to celebrate Christmas this year at their new Dallas home. Kevin stated:
"We're huuuge Christmas fans."
They help their mom with her cookie-making which is a '5 day event.' Sounds yum!
Nick: Christmas reminds him of f his past as a theatre kid when he would do the Christmas performances during the festive season:
"I love the ones I have from when I was in (a Broadway production of) A Christmas Carol, especially the Ghost of Christmas Past. Those are good memories for me."
Joe: To get in the festive mood, he makes a Lion King ornament for the tree, stating that
"ever since I was little, that was the one I couldn't wait to put on the tree every year."
Joe also explained how they wear their pajamas inside out on Christmas morning, holding the superstition that it will snow if they do so. Talk about holding onto your childhood! These big Hollywood boys are at heart little excited boys lost in the festivities and amazement of the Christmas season. It's kind of endearing to know!
Check out the rest
here