The last two weeks have been crazy for the
Jonas Brothers
and it's all because of a girl!
THE
girl.
Miss Shiny Sparkly Taylor Swift
!
Taylor had been off the radar for a while as she had been working on her second album,
Fearless
, which came out this week. Of course, once promotion started for the album - there was no stopping Taylor and certainly no stopping her motor-mouth!
It began with rumors that
Joe Jonas
had broken up with the blonde country crooner over the phone. Neither the
Jonas
nor
Swift
camp chose to comment on this until last week when Taylor updated her
MySpace
video blog...
Did YOU spot the Joe Jonas quip? At 4.18, Taylor coyly holds up a Joe
Camp Rock
doll and remarks that it even comes with a phone to break up with other girls. Later on, she holds up a Taylor doll to the Joe doll and tells her doll to stay away from the Joe doll.
Cue the
blog-o-mania!
It was clear what had happened. Joe had cruelly broken Taylor's heart... over the phone! That wasn't very gentleman-like, was it? And aren't JB always boasting about what little romantics they are and how they treat girls like goddesses? Tut-tut. Reality tells us differently! Unfortunately for JB, the majority of their fanbase is girl-based... and girls know heartbreak only too well... so
Team Taylor
shirts must have been a popular item on Amazon!
Of course, once Taylor had put it out there, the blog was going to come back to haunt her in every interview. She made an appearance on
Ellen
to pimp her new album and of course, was asked about Joe and revealed even more, saying that he had broken up with her in a '25 second phone call' (this has varied from 27 seconds to 30 seconds). She also expressed that she was hurting and clearly, she was not over it.
This only fired up the girl-crowd even more and even unwavering Jonas fans started to crack and admitted Joe was in the wrong. At the same time, people were starting to lose sympathy for Taylor as she continued to reference Joe Jonas in interviews/blogs.
In a new MySpace blog, she denied rumors that she was pregnant stating firmly:
I read a very creative rumor this morning saying I'm pregnant, which is the most IMPOSSIBLE thing on the planet. Take my word for it. Impossible.
Many interpreted this as Taylor making a remark about the Jonas Brothers' purity rings and once again, it caused
OMGs!
and
OMFGGGGGs!
all over the discussion boards. People seemed to have forgotten that like JB, Taylor also had morals... mainly 'I won't have sex until marriage' morals, so if anything, she was validating her own purity rather then belittling theirs but whatever....
Around this time, the Jonas Brothers and their clan were photographed rather unflatteringly on the beach in Cabos. There was a lot of horror at Kevin Jonas's short-shorts and discussion of whether JB actually had ever experienced sunlight before. Once again, JB faced backlash. Things weren't working in their favour this week...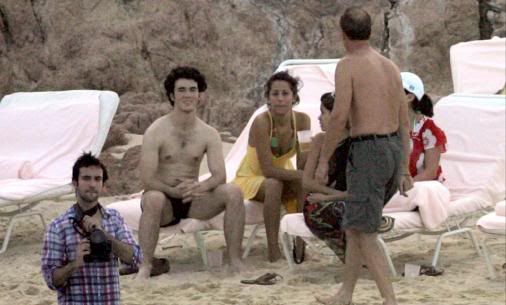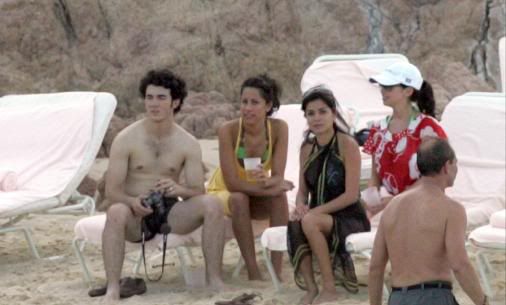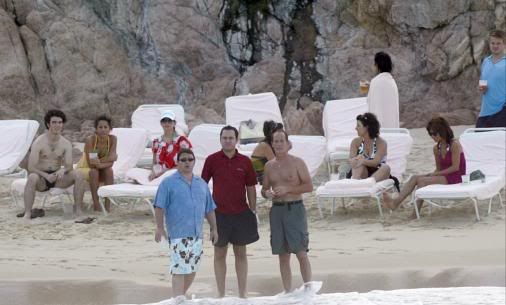 Then came the
CMA's 2008
where Taylor performed her single
Love Story
with
Miley Cyrus
's beau
Justin Gaston
.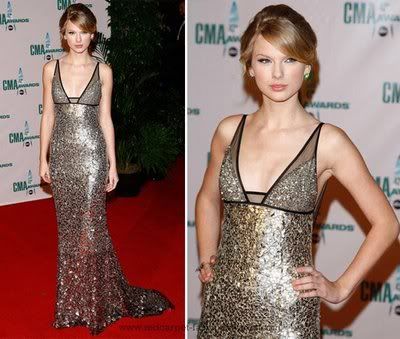 Miley told interviewers that she enjoyed seeing her 'two best friends' up on stage together. Of course, Miley added more fuel to the fire with this remark because now it appeared as if the ex-Jonas girlfriends were banding together.
It also once again put JB in a negative light, making people consider what was wrong with the boys... what
were
they doing to their girlfriends to leave them as bitter as Taylor and Miley?
At the
CMA's
red carpet, Taylor once again talked about Joe Jonas and this time, it appeared she had gone too far. She told
OK! Magazine
that Joe had cheated on her with
Camilla Belle
and that was why they had broken up!
The uproar caused by this was either of people screeching
FOR FUCKS SAKE TAYLOR SHUT YOUR FUCKING MOUTH, I AM DONE FEELING SORRY FOR YOU AND YOU ARE JUST PUSHING ME FURTHER AND FURTHER TO GRAB MY SHOTGUN AND SHOOT YOU IN THE ASS, JUST SHUT THE FUCK UP!
or alternatively stating
OMG JOE JONAS IS A WOMANIZER, WOMANIZER, WOMANIZER, OH, YOU'RE A WOMANIZER, BABY, YOU, YOU, YOU ARE, YOU, YOU, YOU ARE, WOMANIZER, WOMANIZER!
The quote that OK! Magazine gave on their website was:
"[Joe and actress Camilla Belle] been together for months, that's why we broke up."
Most eagle-eyed fans also realised that Camilla Belle had been on the beach with the boys in Cabos just the other day which further cemented the claims that they were dating.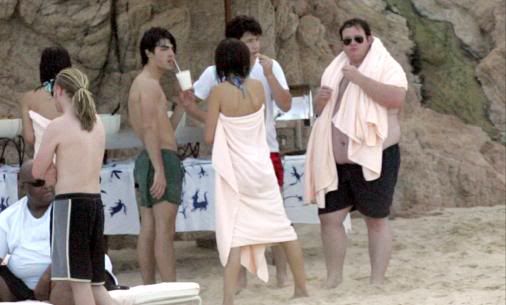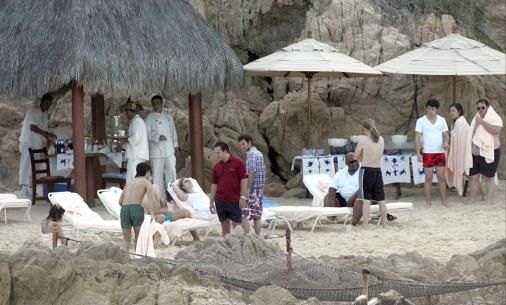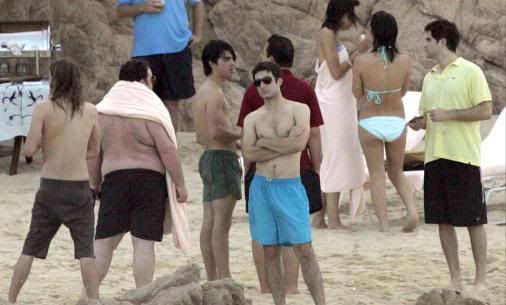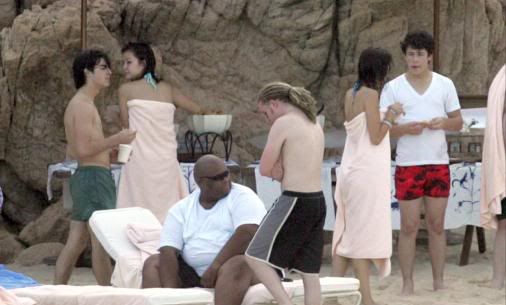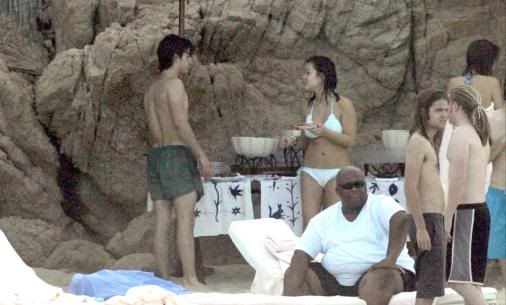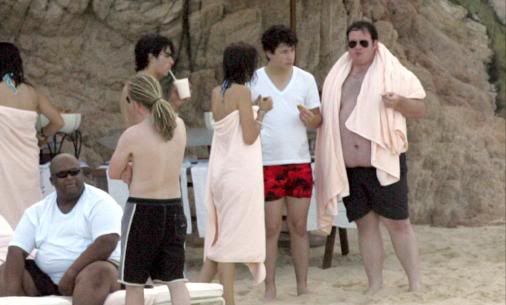 When the hysteria to this quote broke out and
OK! magazine
realised people were actually reading the shit on their site, they realised they were treading dangerous territory in mis-quoting Taylor and went for the honest approach by changing the quote to something less implosive:
"They've been together since we broke up," Taylor tells OK!. "That's why we broke up - because he met her."
BUT the damage was done and it seems the Jonas Brothers had already seen the first quote and considering they don't communicate with Taylor anymore, they were angry and frustrated that she was manipulating the media in this way. They must have been seeing the backlash on their on MySpace too. So, for the first time in Jonas history, the three brothers wrote an open letter to their fans on their official MySpace and Joe cleared a few things up.

To Our Fans from Joe, Kevin and Nick:

It is our normal rule to avoid talking about our private lives. It seems that it has come to the point where we must address a few things. We would prefer to address these things and then leave it alone from that point forward.

We felt like it was important to respond because recent events have affected our fans. It is important to us as artists and brothers to enlighten regarding this situation. Our fans are the most important thing to us.

There are rumors and suggestions that are being publicized in the press right now about us. Like all people our age we are trying to find someone special that we can share time with in our busy lives. We all have busy schedules and high demands. We love our life and are thankful for all that we have. We are simply stating that it is difficult to maintain relationships with the kind of life we live.

We love our fans and it is important to us to protect that relationship.

To Our Fans from Joe:

This blog is not an attack of anyone. Anytime you are in a relationship for any length of time there are going to be issues. Sometimes they resolve. Other times they lead to a change of heart. This was the case recently.

Several things I will state with all my heart…

I never cheated on a girlfriend. It might make someone feel better to assume or imply I have been unfaithful but it is simply not true. Maybe there were reasons for a breakup. Maybe the heart moved on. Perhaps feelings changed. I am truly saddened that anything would potentially cause you to think less of me.

For those who have expressed concern over the "27 second" phone call. I called to discuss feelings with the other person. Those feelings were obviously not well received. I did not end the conversation. Someone else did. Phone calls can only last as long as the person on the other end of the line is willing to talk. A phone call can be pretty short when someone else ends the call. The only difference in this conversation was that I shared something the other person did not want to hear.

There were later attempts at communication that had no response.

I wish the best for the other person but could not sit back any longer and leave our fans with a wrong impression of the truth.

Hope this helps enlighten a little.

We love you and miss you

Joe, Kevin and Nick

A rather melodramatic and very formal blog post woke a lot of JB fans up. The Brothers need their fans, their fans are their lifeline and the thing about JB is that they have always had the fans on their side. They have never experienced stern criticism from the press, they have been labelled the 'good boys' and the ones who can 'do no wrong.'
So to have their fans and the media suddenly turn around and question their morals, their relationships and their personalities must have really shook them up. Now they know how Miley Cyrus felt when she recieved blacklash over the Niley relationship. Yet, the Brothers do care. They aren't so involved in Hollywood and so in the clouds that criticism doesn't affect them anymore. If anything, they seemed to have re-evaluated themselves and come back stronger.
Taylor's new album is doing amazingly well, I've only heard 'Love Story' so far and I love it but I doubt the rest of the album will attract me and I will probably forget all about her in another week or so unless she drops Joe's name again.
The Jonas Brothers will always be worshipped by me. I think my crush on Joe is slightly
less crushing
now buT eh, to err is to be human and all that shit.