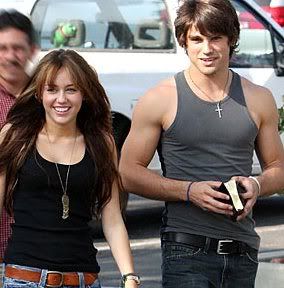 Ellen DeGeneres
is turning out to be the new
Oprah
- for the tween Hollywooders, that is!
She's had
Taylor Swift
opening up on her couch all about ex-boyfriend Joe Jonas, she's had
Vanessa Hudgens
confessing that she IS around when Zac wakes up in the morning (
say HELLOOO, Disney-sex!
) and now she has
Miley Cyrus
doing her tween version of
Tom Cruise's
couch molestation of Oprah's couch!
Ellen
pried about Miley's relationship with
Justin Gaston
and although Miley wouldn't admit to a relationship being there, her body language gave her away...
read the in-video notes to see what I mean.
Some might find Miley's giggling annoying but I kind of find it cute. She's sound like she's 5 years old. She's such a kid. Gotta love kids. In the non-pedo way. I'm talking to you, Gaston!
What
DO
you think? Are Miley and Justin
DATING?