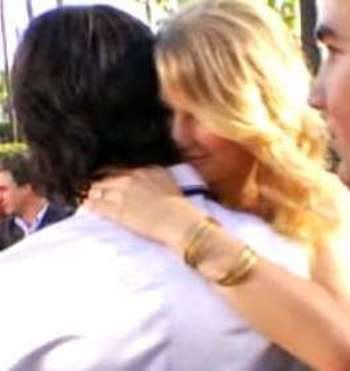 Taylor Swift
just updated her official
MySpace
blog and tellingly writes that she has been making playlists of sad songs. I love this girl and her sense of humour. She's amazing.
AMA's and life.
Hey guys! I'm so excited, you got me nominated for an American Music Award this year!! I'm nominated in the "Favorite Female Country" category. Thank you so much for making that happen for me again this year!! It'll be so cool to go to the AMA's again. I'm performing, and I have so many ideas that we're working out for the performance.

And hey, I've never won an AMA before…….. Maybe this year? It's completely up to you, because it's fan-voted. (yesssss) I think you have to login and stuff to vote, but it would make me soo happy if you did. :) This is the link: http://abc.go.com/amavote/index?pn=index&cateId=144475

In other news, I just got back from a 5 show run on the road. Now I'm sitting in my kitchen..on the counter. Eating cool whip. And trying to think of things to do with my free time. Other than talking to my cat and making playlists of sad songs. Sad songs are awesome, by the way. I'm also editing a new video, so expect that to be up here in a few days.

Tomorrow I do more album media preparation/interviews/taped performances/blahblahblahh for album release week. Basically what you do around an album release is you start taping things way in advance, so they can air on TV when the album comes out. So we've been doing all of that for months. Then my best friend, Abigail, is coming in from college (she's too far away.

I'm trying to convince her this whole college thing needs to work around our friendship and not be so time consuming.) Then this weekend, we play in Nashville with Rascal Flatts. And every day, my album is closer to being OUT. Yesssss. I love you so much for your comments. Thank you for saying nice things to me. You have no idea how much that really, really can make my day. You're what makes me smile. :)

lovelovelove
-T-
Vote for her at the
AMAs
, people!