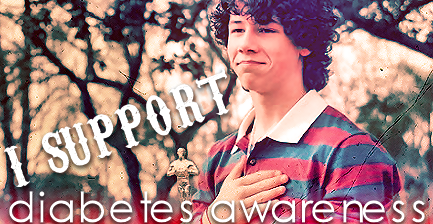 Nick Jonas
blogged for
Simple Wins
as part of his collobaration with
Bayer
to fight juvenile diabetes.
He writes:
Posted October 1, 2008
Hello all-
Since my last blog, we performed at the VMAs, wrapped up our tour, filmed another video and rented out Dodgers Stadium for a little bit of fun. Speaking of Dodgers Stadium, it is also the home of the November 1st JDRF Walk where I will be with TEAM JONAS. Hope you had a chance to enter the W.I.N.S Sweepstakes, I can't wait to see who is going to win and represent the team. Bayer and I thought this would be a great way to raise awareness regarding diabetes and diabetes care. As you know this is an important time of the year for diabetes as we all work hard to raise awareness and money for more research to find the cure. What better way to kick off National Diabetes Month than to be out there supporting the cause.
Production of our new Disney TV Show began this week, it is a pretty hectic schedule but I have to tell you it is nice to be sleeping in my own bed for more than one night here and there. The show is going to be taping thru the end of year, I wish I could say that was the only thing I am going to be doing, but you know better than that. JB has a lot of surprises planned for you before the end of the year.
It was great to see so many of you out on the road, I hope all of you had as great of a summer as I did.
Until next time-
Nick
A celeb doing some good is worth a blog post, y'all!