Selena Gomez
dropped by the
H&M Collection Preview
in NYC this week clad in an all-black, tight-fitting outfit.
It's pretty age appropriate, she looks 16 years old and she looks sweet. Of course, the outfit also screams about what a dull personality she has. I think Selena was born in the wrong decade... the 1930's would've suited her better, especially with that hair cut.
Also in NYC,
Eve
was at the
Antonio L.A. Reid Comestic Line Launch
looking fierce with new hair.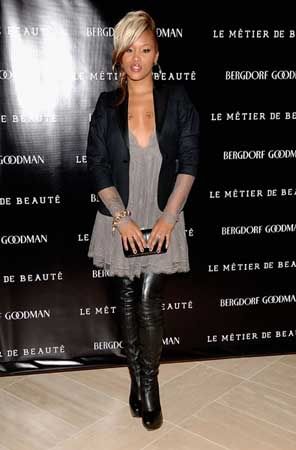 The platinum streak in her hair gives her edge and I'm loving how she outfitted herself in a cutsey lace dress and then punked it up with leather. The blazer she's wearing has become a popular trend in New York!
Also, if you haven't already heard...
Victoria Beckham
was on the cover of
Vogue India
.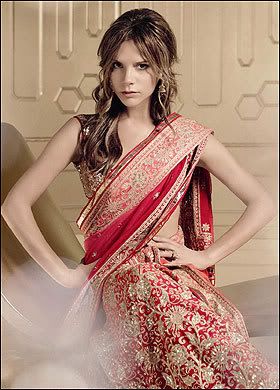 She was dressed up as a traditional
Indian bride
complete with the heavy gold jewellery and the traditional red and gold sari. I love what they did with her hair and I have to say, the
desi
look is a good one for Victoria although it accentuates her nose in an unflattering way.
There were a lot of hot babes at the
Hot Hollywood
party this week and a lot of hot styles were happening but
Ashley Tisdale
really stood out for me.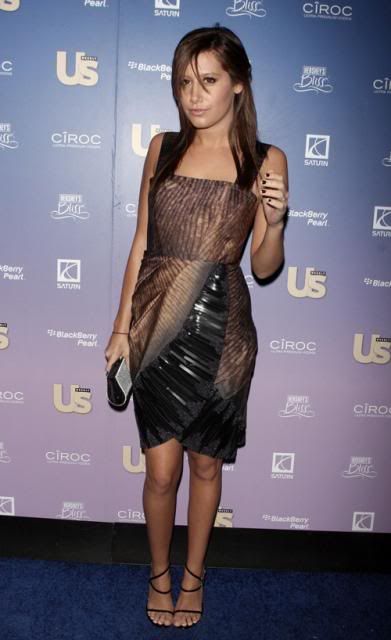 Her darker hair and tanned skin complemented her well-shaped and rich in purple dress well. She looked sensational to say the least!
Finally, to round off my post is one of my favourite little five foot something petite fashionistas -
Vanessa Hudgens
.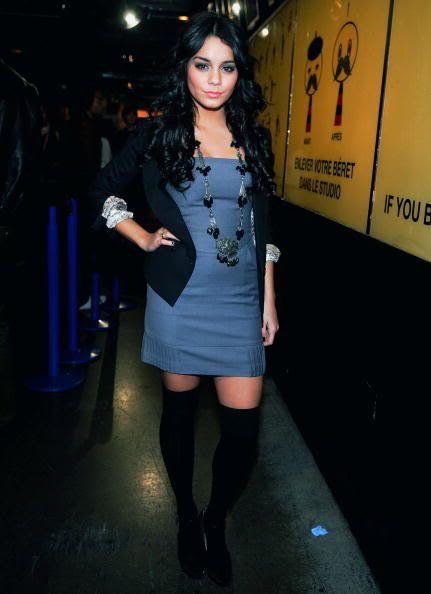 She wore a brilliant metallic-grey mini dress to
TRL
this week with a black blazer (the style for this winter) and knee-high socks. When you've got the shapely legs the Hudge has, you need to do whatever you can to show them off!