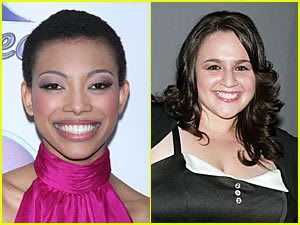 Former
America's Next Top Model
contestant
Bianca Golden
claims that
Hairspray
star
Nikki Blonsky
kicked Bianca's mom in the vagina!!!
On the Oct. 8 episode of
The Tyra Banks Show
, Bianca claims that Nikki and her father attacked her mother at the Turks & Caicos airport in the Caribbean on July 29.
Bianca shares candidly,
"[Nikki's father Carl] punched my mom. He knocked her out! He hit my mom with such force she stumbled back and when she stumbled back the whole family got up and attacked my mom. [When my mom was on the ground, Nikki] takes her foot and kicks my mom in her vagina, and that's when my mom fell out completely. When Nikki kicked my mom I went and grabbed her arm and she grabbed my earring. Her mom sat on her to get her off of me cause her mom saw what was happening and that was that. Her face is still black and blue"
Bianca's mom suffered internal bleeding, a broken nose and a fractured skull. She even had to be airlifted to the hospital!
Carl and Nikki Blonsky and Bianca were all arrested on assault charges.
Source
Can I firstly just say, Bianca Golden has one of the most disgusting personalities ever. If you've ever seen her on Tyra Banks' show, you'll know what I mean. This girl likes to lash out. Also, Bianca was also arrested on assault charges but she doesn't seem to mention violence on her own behalf... she seems too busy painting herself as the victim. After all, Nikki Blonsky was in a neck brace... how did that happen now?
I find Bianca's story laughable rather than touching. The only person I feel sorry for are Bianca's mom because her daughter's big mouth landed her in serious trouble. I would suggest you guys YouTube her and see what she's really like before you find yourselves being pulled in by the sob story. I hope the Blonsky's cook up a better one or maybe hire an author to think up a more heart-wrenching one. Both sides were stupid and the fact that people on both sides got hurt... well, they bought it on themselves.