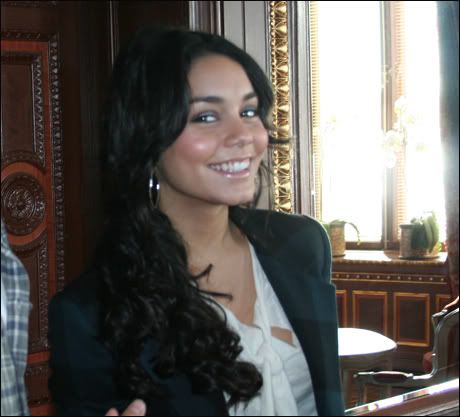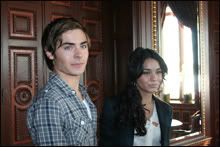 Zac Efron and Vanessa Hudgens continue their press tour in Sweden with an interview with a Norwegian paper.
The paper can be read
here
. If you understand it, you're smarter then me!
EDIT: I did a translation on Google Translate. It's not perfect but....
19-year-old
Vanessa Hudgens
, one of Hollywood's biggest names of our times, is in Stockholm to promote
"High School Musical 3: The Senior Year,"
the third film in the popular series about Troy, Gabriella and the other cast of East High School.
It was a long time before Vanessa Hudgens came to be considered for the third movie, because of nude photos of her that appeared on the Internet last year. U.S. celebrity magazines still write about the photos, and
VG Nett
wanted to know if she is tired of the questions.
"Oh yes," she said, followed by a laugh.
"So you still get many questions about this?"
"I...." Vanessa starts to answer, but is soon stopped by
Disney
's representative in the room.
Popular
Vanessa's popularity among the celebrity press was not less after it became known that she is also the girlfriend of her
High School Musical
sweetheart in reality. If they appear at an airport together, one can guarantee that will be pictures of them the day after in the celebrity magazines. There are many
Zanessa
fans.

VG Nett
wanted to know about whether it was possible for Vanessa to do
'normal'
things with her boyfriend Zac Efron when there is always lots of teenage girls nearby. Vanessa doesn't answer questions about her relationship.
"We are all really. It is a little crazy sometimes, but we love the fans. They are why we are here, so we always try to sign such things and if they ask."
Some of these fan encounters happened for Vanessa during this summer when she was on tour promoting her album.
"I was on tour and was about to end a concert. Suddenly I see a boy to my right who had come up on stage. He ran up to me and threw his arms around me saying "I love you! It was a hysterical fan-minute! "said Vanessa.
Last year
In the upcoming movie, which has its American premiere 24 October, the High School Musical gang face their last school year. Troy and Gabriella try to enjoy the time even though they both know that their respective college dreams can lead to their relationship being put to the test.
Vanessa believes she has played Gabriella Montez for the last time in this movie as it is about the last year of high school. She does not believe that she will star in a "College Musical" which will follow Troy and Gabriella on.
"Do you want to consider a possible College Musical if anyone would get the idea?"
"We are probably finished, the book is closed," said Vanessa who grew up with musicals.
Action
The 19 year old is already worth millions and believes she has been lucky with their choices in life.
"I've been lucky, my parents are proud. I am very happy, I was kissed by God," she said with a smile.
Vanessa has plans to further her career, and it is something quite different than the musicals she has been doing.
"I'd like a real action role! I love Angelina Jolie, she is strong, kick ass and really sexy." said the popular 19-year-old.