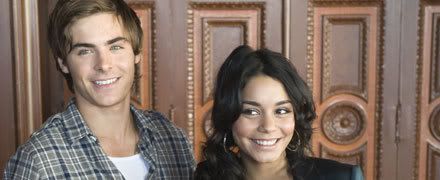 Vanessa Hudgens
just had a live chat live from the
Grand Hotel
in Sweden where she and her HSM beau
Zac Efron
are staying. The live chat was part of the promotions that the entire
HSM3
cast will be doing for the movie which is released next month in October.
This is the contents of the live chat. And no, she didn't answer my question. I'm not gonna cry about it though. No. I'm just gonna take my pet monkey with me down to the red carpet premiere of
HSM3
in London and have him throw poo at her. :]
Moderator säger: Hej allihop. Chatten är lite försenad, men Vanessa är på gång. Håll ut! [Hello everybody. The chat is a little late, but Vanessa is going on. Hold on!]

Moderator säger: Nu har vi fått besked om att Vanessa är på väg alldeles strax [Now we have been informed that Vanessa is on the way shortly]

Vanessa Hudgens säger: Hey everybody. You fans are so amazing, you rock!
Jenny säger: What was your favorite part of filming High School Musical 3?
Vanessa Hudgens säger: being back with everybody again, doing the waltz...
CeciliaEM säger: Hi Vanessa, I'm a really big fan of you. What is your favorite music? a lot of hugs from Cecilia =)

Vanessa Hudgens säger: I have a whole biunch of different. Right now I' more into kind of indierock.

Mallan säger: Hi Vanessa! Hope you are having a nice time in Stockholm! My question to you is: Was it difficult learning all the dance moves for the HSM movies?
Vanessa Hudgens säger: It was definitely harder this time, the dances was more intricate. But we had a lot of fun doing them!
Linda säger: Who is your idol?
Vanessa Hudgens säger: I have always looked up to Natalie Wood.
adela säger: HI VANESSA I LOVE YOU SO MUUUCH 3 AND MY QUESTION IS : WHAT DO YOU THINK ABOUT SWEDEN ? :D

Vanessa Hudgens säger: Thank you! I think it's beautiful. I haven't got to see much yet, but from what I' ve seen it's beautiful.
Bodil säger: Do you sing all the songs in the movies?
Vanessa Hudgens säger: Oh yes! That's all my voice!
karin säger: Hi Vanessa, I must say that I think that you are one of the most beautiful girls in the whole wide word. Do you often think about what you look like and how to stay in shape? Kisses och hugs!/ A huge fan :)
Vanessa Hudgens säger: That is soooo sweet, thank u so much. I try to stay in shape with pilates. You definitely boosted my confidense now!
Saara säger: I love your style of clothes! Do you have a stylist or something? Or how do you do to pick out your clothes? =)
Vanessa Hudgens säger: I do have a stylist. But she understands the way I dress. Some days I like to dress more bohemian, some days more adgy. I love fashion.
Sandra säger: Hello Vanessa! Have "High School Musical" (films) changed your life a lot since the begining?
Vanessa Hudgens säger: Things have become more chaotic. But I lovge travelling and everything. Coming here is so much fun.
mattias säger: has you some brothers and sister
Vanessa Hudgens säger: I have a little sister named Stella
David säger: Hey! What do you like to do when you have time off?
Vanessa Hudgens säger: Just relax, hang out with my friends and family. Going to movies. I like cycling. Just hanging out.
Zanessa4ever säger: Hey Vanessa! Is it true that you will sing a song with Ashley on her new Solo Album?
Vanessa Hudgens säger: I wish! As of now, no. But I should ask her...
Kamilla säger: Hi there Vanessa! How do you cope with stress and pressure from the press and such? you are really in the light all the time, so it must be very hard! / with respect from kamilla :) (and i agree, you are very beautiful)
Vanessa Hudgens säger: Thank you. Yeah, it's hard. At times it gets very crazy. But I have my family and when I'm with them I'm all at ease.
josyjosajosyjosy säger: Do you practice dancing a lot ?
Vanessa Hudgens säger: I want to more so than I do. I think I wanna start hiphop dancing lessons. I have danced all my life. Tap dancing is my favorite.
Sophie Davies säger: Hiya:) your my rolemodel vanessa, your beautiful, ill be at the HSM3 uk premiere! i cant wait! Whats its like with all the screaming girls over Zac?X
Vanessa Hudgens säger: Thank you. It's funny! We have the best fans. It's funny hearing them scream...!
Madeleine säger: Hey Vanessa. First I would like to say that you're a very good actress and I love your music. I really love your new album "Identified"! Now my question: are you coming back to Sweden again for a consert? Keep it up! :)
Vanessa Hudgens säger: Ooooh, thank you so much. As of now, I'm not. But I would like to if the opportunity arises! Now I have to go. But thank you sooo much for all the questions.
Moderator säger: Vi tackar Vanessa och tack så mycket alla ni som varit med och chattat och ställt frågor. [We thank Vanessa and thanks all of you who have been with and chatted and asked questions.]
THE END.
The live chat took place
here
. Zac will also have a live chat today so keep your eyes open!