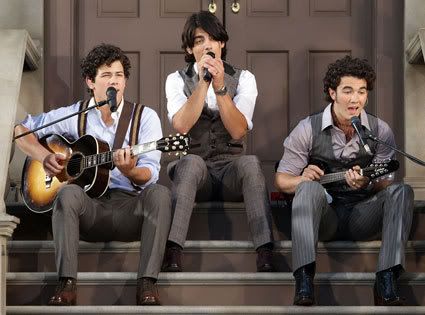 We all know the
Jonas Brothers
are a huge band. They are amazing. They are literally taking over the world and why isn't anyone stopping their plans for domination?
One simple reason.
These boys have not changed. Not one bit.
They are still New Jersey boys at heart who have remained diva-free and ever appreciative of their fan support. Their fans do so much for them and go to great lengths for them and these brothers continue to show their appreciation.
They haven't gotten to a stage where they feel they are 'above' making contact with their fans - they still have their meet and greets and even take time out from their busy schedule to comment fans back on
MySpace
at 2AM in the morning.
Yes, they have
dedicated fans
but the fans are only dedicated because the boys are.
That is why these three are on the rise and are only going to continue rising up, up and up.
You know they're getting up, up and
'upper'
when they've got their own life story being played out on the ever popular
Much Music.
Check it out.
Part 1:
Part 2:
Part 3: