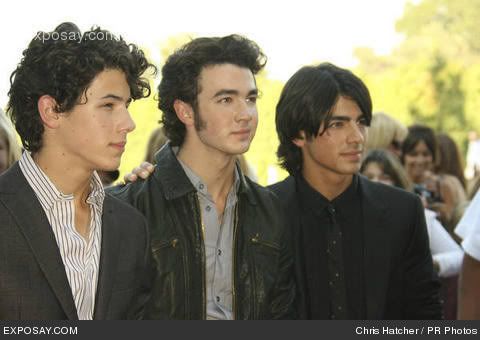 JBFaner
, Priscilla, was working at the C
oncert for Hope
and sent in her story
here
at JBFan. It sounds like she had a blast and best of all, there's a
Taylor Swift
cameo... like we needed any more evidence that she and
Joe Jonas
are dating!
Okay, so I was helping out at the Concert for Hope this past weekend. So Sunday morning, we (my friend and I) got to the Gibson Amphitheatre, and we went straight to work from there. It was really weird because we were putting things into envelopes, and writing names on them like, 'Jonas Brothers', 'Miley Cyrus', or 'Demi Lovato'. And knowing that these envelopes were going to their dressing rooms was kind of a crazy feeling. Also, like these people would come into the office saying 'Hi, I'm here for Demi Lovato'. It was just unbelievable.

Well, that morning, my friend and I hadn't seen the Jonas Brothers all morning, even though they were literally down the hallway. We had seen Big Rob and John Taylor though. Well, we were sitting in this one room watching tv, and out the door was another hallway leading to the catering room. So, then I see their band people go by, John Taylor, then Big Rob. And in a quick second, Nick's head comes out of the hallway, then Kevin walks by, and then Joe and his dad. By this time we were so happy just to have seen them.

Then we decided to go to the catering room too, not to 'stalk' them, but because we were hungry. It was really nerve-racking to be eating in the same room as them. From our view, they looked like nice people, haha. We didn't want to go up to them asking for a picture while they were eating, so we just sat there, then left. Oh, and we saw Mya there too! (Nick's best friend, but I'm sure all the readers know who she is.)

So, by the time the show started and Demi went on, we couldn't enter the audience area, so we just watched from backstage. Her performance was amazing. We didn't stay for the whole thing, but we saw a majority of it. On our way back to the office, we were going up some stairs, and coming down from the stairs was Taylor Swift! I didn't know what to think. (I'm a huge fan of hers too) Well, I just blurted out 'Hi!' and she looked with a smile and said 'Hi" back. It was pretty cool.

By this time, it was time for the Jonas Brothers performance. My friend and I didn't really have audience seats because we were working backstage, so we decided we'd watch it from there. Well, we started talking to someone, then before you know it, Joe and Kevin Jonas are right in front of us (Nick entered the other side of the stage). I really couldn't react. It was like a dream I had dreamt before, and it had finally come true. Well, we stood there for a couple seconds, then Joe reaches his hand out and says "Hi! I'm Joe" (like I didn't know...) and Kevin did the same! It was completely crazy. Well, the person we were talking too, took us to the audience, and gave us front row! I mean, front row, right after meeting the two Jonas boys, what could be better?

It turned out to be a really good concert. After we went back to where their rooms were, and they were leaving. They walked right passed us, and Demi was with them too. I said bye to her, and she said bye back. It was crazy, all in one day, technically had lunch with the Jonas Brothers, watched Demi from backstage, said hi to Taylor Swift, meet 2/3 of the Jonas Brothers, front row at their concert, and said bye to Demi... yep pretty crazy day.

Lucky her! Demi sounds very nice and Taylor seemed... shy? What do you think? Did any of you get to go?