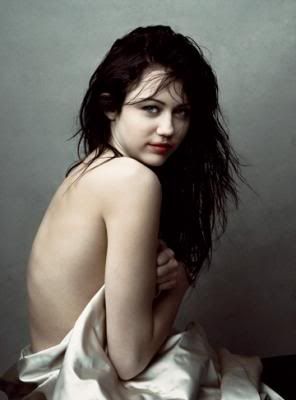 Yesterday, the Internet pretty much exploded with the news that
Miley Cyrus
, 15, had posed for
Vanity Fair
... topless.
Yet, in true rockstar form; Miley bounced back quickly with an explanation and an apology. Why she felt the need to apologise is beyond me. She is 15 years old and not very in control of her life, she has everything scheduled for her and her publicist basically carts her from place to place. Therefore, it's understandable that when on a photoshoot with a renowned photographer; Miley put her faith and trust in Vanity Fair's photographer,
Annie Liebovitz
and believed the photographer knew what she was doing. As well as this, Vanity Fair is a credible and trustworthy magazine because of the reputation it upholds.
Miley has stated:
"I took part in a photo shoot that was supposed to be 'artistic,' and now, seeing the photographs and the story, I feel so embarrassed…I never intended for any of this to happen, and I apologize to my fans, who I care so deeply about."
I refuse to blame a
15 year old girl
for the way a photoshoot turned out. A photoshoot that was scheduled by her publicist and something where she expected the adults around her to know what they were doing. She expected this to be tasteful and artsy but then again, what does a 15 year old really know about tastefulness and art? No, I won't blame Miley for this which is why her 'apology' seems ridiculous to me. People may argue that she is a role model and whatever other labels they want to throw at her but at the end of the day, how in control of her professional career is Miley? How much of a say does she really have on these matters? She had parents on the set that day and no one realised that such photography would have been percieved negatively? Why was that? Is it because we, the media and the media-indulgent are perverted and make the worst out of every situation? Or is it because there is something wrong with someone that young with that image presenting themselves in that way in such a prestigious magazine?
Whatever the answers are and whatever your opinions are, Miley's fame is skyrocketting every time one of these stories comes out. She's penning her memoirs at the moment for a cool six-figured deal! Also, her anticipated album
'Breakout'
hits the stores on June 22nd!
Check out the Behind The Scenes video:
Pictures from Behind The Scenes of the Vanity Fair shoot: