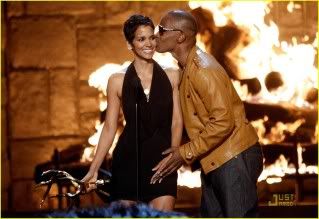 The
Spike TV's 2009 'Guys Choice' Awards
were held at
Sony Studios
last night (30 May) in LA.
Halle Berry was awarded the
Decade of Hotness
award despite the fact that I haven't seen anything remotely hot from her since she first launched into super-stardom in that James Bond movie.
Whatever.
Jamie Foxx
presented her award and she, um, returned the favour by swapping some spit with him and letting him squeeze her pert little ass.
Nice.
I like the way Hollywood works.