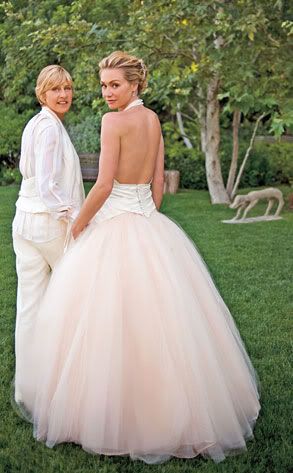 The deeply unfair
Proposition 8
has been met with hostility this week - and quite rightly too! Celebrities are offering their opinions left, right and center and I think TV show host
Ellen DeGeneres
sums it up nicely:
"Watching the returns on election night was an amazing experience. Barack Obama is our new president. Change is here. I, like millions of Americans, felt like we had taken a giant step towards equality. We were watching history.

This morning, when it was clear that Proposition 8 had passed in California, I can't explain the feeling I had. I was saddened beyond belief. Here we just had a giant step towards equality and then on the very next day, we took a giant step away.

I believe one day a 'ban on gay marriage' will sound totally ridiculous. In the meantime, I will continue to speak out for equality for all of us."
Ellen
, who married her own same-sex partner this year, is completely right. This is about human rights and in the 21st Century, we are still denying people fundamental rights...
it's ridiculous!