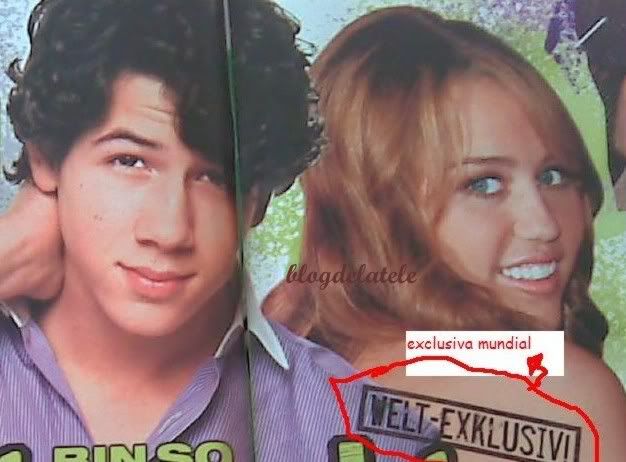 Over this year, the
Jonas Brothers
have had some intense interviews with amazing magazines like
People
and
Rolling Stone
but none of them managed to get any information out of the tight-lipped brothers on one of their most famous relationships... with triple threat
Miley Cyrus
.
Well, what the mainstream US tabloids couldn't do... a small time German magazine called
Bravo
did! Bravo to
Bravo
! (I know, I'm so high right now...)
The scans of the magazine itself are in Spanish
(boo!)
but I've tried my best with a Google translator and my own common sense (
yeah, we're all in trouble now)
to translate it in the best way I can. Oh, and if you speak Spanish and I've made a major error... please, feel free to leave a flaming bag of poo on my doorstep. I know how cosmic justice works.
======================================================================
Title: Miley, I'm so disappointed! - WORLD EXCLUSIVE
Subtitle:
Of the friendship that turned to love - now all that remains is bitter disappointment! Only in BRAVO does NICK JONAS speak about his true feelings for his his ex-girlfriend Miley Cyrus...

Revenge is sweet - and painful!
For all, however, there is a broken heart. That is the feeling that I got from Nick (16) of the Jonas Brothers when talking to him about his ex Miley (15). In her song
"7 Things"
she referred to wavy hair - term referring to him!
To remember: Miley and Nick were a couple for two years - their love for one another was kept strictly secret at that time. But then suddenly everything came to light when in February Miley gave Nick a public presentation of their love on stage: a kiss on the mouth. That was too much for the youth aged 16 - he did not want their fans and their parents to see such public displays of affection. The severe consequence: their separation!
Miley was unable to withstand this step until now, as always often manifests itself negatively about her former boyfriend. "I want to repent," she says liberally. Although Nick himself did not have an easy seperation, he has not ever spoken of Miley.
In an exclusive interview with BRAVO, Nick finally shows his true feelings. "I am really very disappointed Miley. I can't see it as good that she makes this public. The song and her behavior makes me really sad," Nick whispers.
Easy to understand, since there was such a vow of silence. "We promised at that time that the relationship was just a thing between us and that nobody would talk. Nobody should get to know about our love. ... And now this!" Nick is appalled.
Every time he hears the song of Miley, there is a dark shadow on his face. "I never would have thought about it. But fortunately I have my brothers Joe and Kevin. They help me to absorb all the history."
And many things are safe: the different version of events that Miley gives in public accounts have left deep wounds in what was a close friendship between the two.
"The relationship between the us is OK. Not much, much less," said Miley.
Nick, however, seeks to save, which is to save. "I take care to keep my friendship with Miley. It is important to me - despite our break. We have much in common. I do not want to give that up. I just want, we understand well again."
====================================================
I tried my best, guys! The scans links are
here
and
here
Also, I think there's a few inaccuracies in all this.
The kiss they are talking about was not on the mouth, it was on the cheek and it wasn't in February,
it was in December on the Hannah Montana tour. Here's a video:
I'm glad Nick still values Miley, I guess if you've dated someone for two years, it does become difficult to cut that person out of your life completely. I'm also glad their both moving on in their careers and relationships.