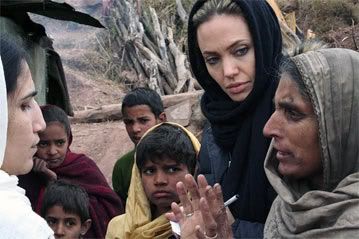 UN refugee agency's Goodwill Ambassador
Angelina Jolie
has officially come to an end of her first trip out in Afghanistan's poverty-stricken capital Kabul.
Angelina saw and met with homeless refugees and her conclusion on the trip was that more be done to help the country this coming winter.
"The courage, resilience and quiet dignity of returnee families rebuilding their lives against the kind of adversity few of us can imagine shows the human spirit at its best,"
Jolie said after visiting a number of sites.
To read more about Angie's trip, visit the
UNHCR
site
here
Something about A list celebrities doing good really warms my heart. :]