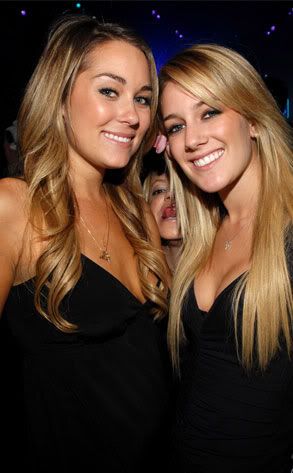 As much as I love
Lauren Conrad
, I have come to accept over the years that she is kind of a famewhore and that much of the press attention - good or bad - is deserved because she is the one seeking out the media. Her reality TV show
The Hills
is proof of her constant need to be in the spotlight.
At first, I loved
The Hills
because it was a young rich girl leaving her parent's nest and going out there and making it on her own. I found that empowering and let's face is, LC's got a cute ass, it's not bad to watch ;) Of course, then the
Speidi
drama cropped up and all the other
'oh my gosh, it's so dramaaaaatic'
but I could stand by that 'cos I love drama, drama, drama!
Now, though, after many Hills-related scandals and
LC
's constant
'woe is me, everyone picks on me'
attitude, I'm getting kind of pissed off. You brought this on yourself, girlfriend. Your TV show isn't even real! We've all known for a while now that
The Hills
was not a real documentary-styled show and now it turns out that it's not only got a scheduled filming time but LC's role in it is completely fake - she doesn't even do the job she's supposedly doing. She's not out there making it on her own. She's an actress who lives off an
MTV
paycheck!
The proof comes from various sources:
An insider tells PerezHilton.com exclusively that Lauren Conrad's Fashion PR job at Peoples Revolution is totally a front.

L.C. doesn't do any real wok!

We totally assumed that. Like, duh

L.C. is making an appearance at the PR office for a Hills shoot this week, we're told.

And, get this, employees at People's Revolution were told by her to bring 3 outfits because they need to make it look like Conrad was there 3 different days.

So. Lame.
Normally, I don't believe Perez Hilton's crap but let's face it, even a two year old could see this is the truth and further on, Perez has real sources quoted as spilling on the not-so-reality-based-reality-show:
We just got this note from Perezcious reader Kacey:
Hey Perez I'm a student at FIDM and Lauren was here Friday with Stephanie Pratt filming scenes for the hills…L.C showed up filmed scenes CHANGED OUTFITS into a striped tube top to seem as if it was another day they were filming at the school and filmed some more. during the breaks she hung out with the crew as if it was a tv taping…this is not reality at all! She didn't even go to a class!!! how fake!
One word, LC: Ewww.