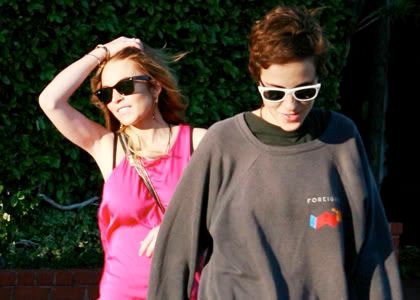 Spotted out on an afternoon shopping spree,
Lindsay Lohan
and
Samantha Ronson
took a trip out to Fred Segal in West Hollywood, California yesterday (September 20).
Besides spending time combing the racks at trendy shops, the "Mean Girls" starlet and her deejay mate took time to pay tribute to Travis Barker and Adam "DJ AM" Goldstein following a horrific plane crash that's left them fighting for their lives.
Miss Lohan wrote on her MySpace page:
"Please send your prayers out to Adam Goldstien (sic) and Travis Barker - along with the others lost in the plane crash… it's so scary to think that life can end so fast… we must all treasure each and every moment - and be thankful for what we have."


Adding her sympathies, Miss Ronson writes: "I can't even imagine the pain their families must be in. Soooooo sad and I'm so sorry."
I have to agree with LiLo on this one. Life is so short. I'm still reeling in shock over the whole crash. I didn't even want to blog about it. It's too depressing.
More pics of our favourite same-sex couple
here